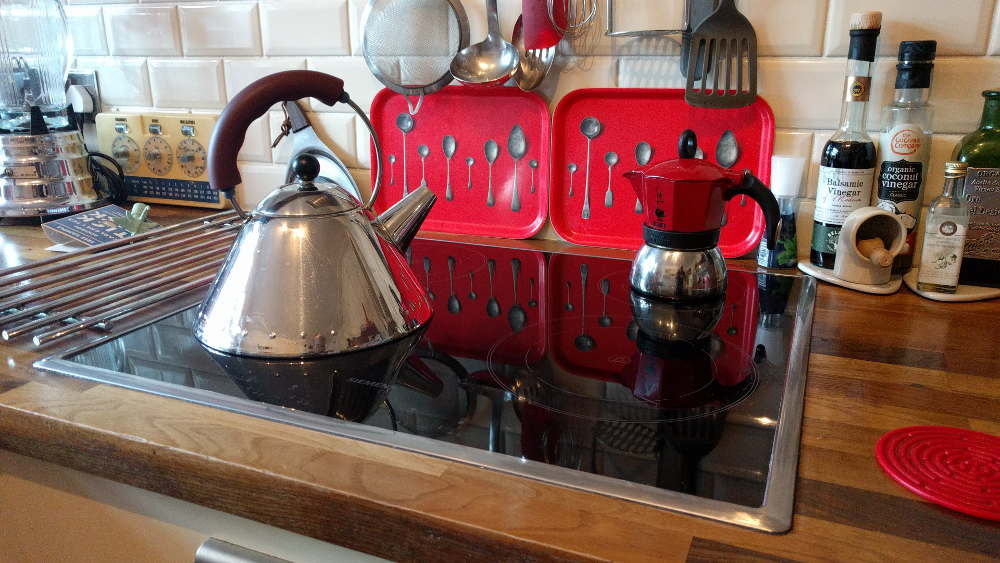 My blog post of the 11th November, where I talked about the apparently huge standby consumption of my "efficient" induction hob (click here to read it), has generated much discussion and debate about the relative merits of this type of electric cooking.
Since I published the post I have been in discussion with some technical expert colleagues of mine who work in a testing house that deals with measuring appliances on a daily basis so are pretty well informed on such matters.  They have been telling me all about the rather complex issue of the 'power factor'.  Now, I have to admit that it has taken me a while to get my head around the concept, but I think I finally get it and ghence this is my semi non-technical understanding of the issue taken from resident techie expert Steve's explanation (Steve's explanation is copied in full at the bottom of this post for the more technically able amongst you):
Power factors are a result of the difference between 'true power' which is the actual, real power (measured in Watts) consumed by an appliance and the 'apparent power' (the product of Voltage multiplied by Current (Amp), and represented by VA) that appears to be consumed.  With most household level appliances these two types of power: 'true' and 'apparent' are identical, BUT with certain products this is not the case and the 'apparent power' can appear much higher than the actual power that is being consumed – still with me?
The reason for the existence of 'apparent power' is the power factor.  The power factor exists when there is a phase shift between the Voltage and Current waveforms, and this phase shift can happen when the appliance being powered has inductive or capacitive properties – ie such as an induction hob, and, apparently, low energy light bulbs such as CFLs.
The typical type of domestic 'Real Time Display' unit which displays overall electricity consumption in your home, such as my Wattson or others on the market, are of a type that cannot cope with the differentiation of true versus apparent power, and so, when measuring the consumption of, say, my induction hob, is actually displaying the 'Apparent power' rather than actually what my hob is consuming.  Still with me?
The main implication of such a 'power factor' does not lie with the householder or their electricity bill, as they only pay for the true power they consume, but the power station has to work harder than normal to deal with this issue – so for the supply side and grid, such 'power factors' are an issue as they require a bigger drain on the energy production side.
To test out if this was actually the case with my induction hob, and because you cannot measure a hob's consumption on a single device electricity meter as it is wired in to the mains, I carried out an experiment overnight.  I turned everything powered in the house off at the plug, so my electricity consumption reading on Wattson was zero, and then turned my hob back on.  The Wattson told me I was consuming 150 Watts or thereabouts. I took a meter reading, went to bed and ten hours later took another reading.
The actual consumption of my induction hob over that ten hour time period was 260 Wh, so an average standby consumption of ~25 Watts.  That is a big difference to the 150 Watts my Wattson was recording; a difference of six times larger in fact!  I downloaded the recorded data from my Wattson for that time period and sure enough, it had recorded apparent consumption of 1560 Wh over the ten hour period.
So, what does that tell me?  Well, my induction hob is not as bad as I thought for starters which is a good thing, as I do love cooking with it.  A standby consumption of 25 Watts is not great by any means, but isn't anywhere as bad as 150 Watts.  So its costing me around £30/year to do nothing, that is about 12% of my total annual consumption, rather than costing me about £180 and being over 50% of my total.
What is does mean though, is I cannot trust my Wattson to give me any sort of accurate reading on my total electricity use. As a result of this power factor issue (I also have a load of CFLs, so it is probably overestimating their consumption too)  I cannot, with any confidence, work out how much of my PV generated power I am actually using as I haven't an accurate way of measuring total consumption, which is annoying.